In summer 2003 I took a long vacation in Utah. I visited 7 national parks (Arches, Canyonlands, Capitol Reef, Bryce Canyon, Grand Canyon, Zion, and Great Basin), 4 national monuments (Grand Staircase/Escalante, Natural Bridges, Vermilion Cliffs, and Cedar Breaks), 4 national forests (Dixie, Kaibab, Manti-La Sal, and Humboldt), 1 national recreation area (Glen Canyon), and 10 state parks (Anasazi Village, Antelope Island, Coral Pink Sand Dunes, Dead Horse Point, Edge of the Cedars, Escalante Petrified Forest, Goblin Valley, Goosenecks, Kodachrome Basin, and Newspaper Rock). As planned, I divided my active time between photography, hiking, birding, and admiring the scenery.
You can jump directly to the list of photos or browse them as you read the trip account.
To Moab!
Tuesday, May 20, 2003: I left the house at 5am this morning. The airport seems harder to negotiate each time I go there. As usual, the photo equipment got the attention of security. I got to the plane in plenty of time. The flight was uneventful, and I arrived in Salt Lake at about 2:15 MDT. I picked up the rental vehicle (Ford Escape). Before heading for Moab, I stopped to get some supplies (cooler, ice, Diet Coke, etc).
It was about 3:45 by the time I left Salt Lake, and I still hadn't eaten since breakfast. I got lunch/dinner/whatever just before leaving I-15. Then I took US-6 east to Price and eventually I-70. US-6, the Union Pacific and a Soldier Creek are all packed together shortly after leaving I-15 as US-6 winds its way among Wasatch Range. A ridge puts an end (start?) to Soldier Creek and its replaced by the White River on the other side. This runs into the Price River which stays with the road to Price and beyond. The terrain changes after Price. It opens up into a broad valley with the Book Cliffs to the west. The first Pronghorn of the trip were in this area, as was the first Golden Eagle.
I got around the corner of the Book Cliffs near I-70. The road joins I-70 which I follow west past the Green River crossing and town of Green River, finally turning south on US-191 toward Moab. It's about 8pm as I cross the Colorado at the north edge of Moab. There's a really pretty reflection of the cliffs in the river. It strongly tempts me to photograph it, but there's no place to stand except in the middle of the busy highway. Too bad, but at least I got to see it.
Moab UT
Arches
Wednesday, May 21, 2003: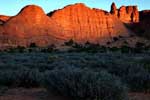 I got up early today (taking advantage of the 2 hour time shift). Denny's is the only thing open for breakfast. Then I headed into Arches National Park to a location that's supposed to be good at sunrise. At the time, I thought that the light didn't look that red. The sun comes up behind the LaSal Mountains at this time of year, making it less red when it finally clears the mountains. Nonetheless, it still turned the Great Wall red.
I then went to Courthouse Wash to look for birds. There were some birds there, including Ash-throated Flycatcher, Bullock's Oriole, and Warbling Vireo. There were also several that got away.
Balanced Rock was next. (PHOTO) The trail doesn't give the right light in morning, but there was nothing stopping me from going well up the road and using a telephoto, so I did.
By then, the visitors center had opened, so I went there and arranged to take the Fiery Furnance hike tomorrow afternoon. I also bought a wildflower book. The Park Avenue area (featured in Indiana Jones and the Last Crusade) provided a good area to test the book. As I walked down the trail, I noticed White-throated Swifts overhead. As I watched, two of them got together and came tumbling down. Of course they separated before there was any danger they'd hit ground.
My next stop was the Windows trail where I joined the ranger-led (well, volunteer-led) hike. It takes the primitive trail and returns on the main trail. Many photos were taken of both Window Arches (PHOTO) and the Turret Arch (PHOTO), as well as nearby features such as the Elephant Parade. I photographed the Double Arch, but didn't take the trail. It was getting hot and I felt it was time for a change of venue.
I headed out of the park, back through Moab, and south to the turnoff for the La Sal Mountains Loop. This took me up in the La Sal Mountains (part of the Manti-La Sal National Forest) to about 8000 feet. That's still a long way below the top, but a nice way to spend the afternoon. The loop goes into the Castle Valley (with spectacular views) as it leaves the La Sal's. It ends at the Colorado Scenic Byway, which I followed to Fisher Towers and beyond. (PHOTO) On the way back I got some nice photos of the snow-capped La Sal's, with the Fisher Towers in middle-far distance and the Colorado in the foreground.
After all that it was time to eat! I stopped at the motel first and noticed my message light flashing. Could it be? I called the front desk and found it was. My laptop had arrived! Needless to say, this delayed dinner somewhat. I had brought a backup CD and used it to reinstall much of the lost data. Some of the other stuff will have to wait until I have a high-speed internet connection. Later, I ate at the Slickrock Cafe.
I also made arrangements to take a boat down the Colorado into Canyonlands on Friday (return over the Shaefer Trail via 4WD). Finally, I went back into Arches late in the day hoping I might find a nightbird. No luck, but there were some bats flying around. Right now, I'm debating whether to go to Arches or Canyonlands tomorrow morning.
Moab UT
Canyonlands and Fiery Furnance
Thursday, May 22, 2003:
Canyonlands won the debate. I actually started at Deadhorse Point State Park. The overlooks there are amazing with all of the layers in the canyons. Some people rate the view better than the Grand Canyon (we will see). I took photos, but afterward I realized why it is so difficult to photograph these canyons well. By that, I don't refer to technical difficulties, or even claim that people can't make beautiful photos. Rather, they don't capture the spirit of the canyon. The problem is complexity. The canyons, with their layers and levels are just too complex to show well in a photo. The usual advice is to simplify, to focus on the object. That fails miserably when the object is essentially complex. This is why even the David Muench's and Tom Till's have trouble making these photos work.
Canyonlands National Park
was next. I started with Mesa Arch (PHOTO), then the Green River Overlook. Both were great. At the Green River Overlook I had decent success at photographing the complexity of the canyonlands. The overlook was mostly deserted. Only one pair of women visited while I was there. However, a big crowd arrived just as I was leaving. The next stop was Whale Rock, which I climbed. The last stop on this segment of the road was the Syncline Overlook. There is a debate among geologists as to whether this formation was formed by a meteorite or salt dome (or maybe a meteorite hitting a salt dome!). Whichever, it is an interesting formation. There are two overlooks (1.6 miles round trip) and a loop trail (which I didn't do). I had a bit of a problem coming back as I missed a turn in the trail. (PHOTO) Evidently others had done this too as there was a herd path. When it ran out, I realized I needed to backtrack. It was also getting hot, and I figured a stint under the A/C was required. I went back to Moab and rested a bit.
I returned to Arches in time to photograph the Double Arch (PHOTO1, PHOTO2) before doing the Fiery Furnance hike. The Fiery Furnance isn't really fiery...in fact, there is a lot of shade. You either need to get a special permit or to take a ranger-led hike. The trail is quite complex and there are problems with endangered plants being trampled. Parts of the hike involved use of hands, wedging oneself between walls, and other interesting maneuvers. The views inside are worth it! (PHOTO)
I left Arches via the Willow Flats Road, which was once the main road into the park (e.g., in Edward Abbey's day). The segment from the park road to Willow Springs could be traversed by a passenger car, but I know mine would have difficulties at Willow Springs. Since I was driving a high-clearance vehicle with little overhang in front I didn't have a problem. I suspect the road was better maintained in the old days. The road west of Willow Springs was quite a bit rougher until after I was well out of the park. There was one last potential trouble area at the Courthouse Wash ford, but the wash was dry. I was a little surprised to find a closed gate just before returning to US-191, but there was no lock and posed no problem. From there it was only 10-15 minutes back to Moab.
Moab UT
From River to Plateau
Friday, May 23, 2003: I tried a bit of birding early this morning. My first try was the Matheson Preserve, which turned out to be locked. So I ran back up to Arches to try Courthouse Wash. It wasn't terribly birdy, with Spotted Towhee being the only trip bird.
I then had breakfast and proceeded to Tag-a-Long Tours for my 8:30am jetboat/4x4 trip. There were 4 others taking the same trip. We went out Potash Rd to the end where we launched the jetboat. We stopped to examine some petroglyphs (etched) and the way to the launch site. We took the boat downstream (PHOTO), past Thelma and Lousie Point (where the movie ends) and Deadhorse Point. We also put up some Redhead on the way. The boat ride ended at Lathrop Canyon, which is the terminus of the Lathrop Trail/Road. We made two short stops on the way where there were some pictographs (painted) and some Indian ruins.
We were met at Lathrop Point by the guy with the 4x4 (a Ford Expedition) who had a picnic lunch prepared. After lunch, we started up the Lathrop 4WD Trail to the White Rim 4WD Trail. We followed the White Rim Trail, stopping at Musselman Arch (which some of walked on) and the Colorado River Overlook. We went up the Shafer 4WD Trail, which climbs 1500 feet in about 3 miles of switchbacks from the White Rim to the top of Canyonlands. (PHOTO), We got back to Moab around 5pm. I found a nice (albeit expensive) little restaurant called the Desert Bistro. The dinner there was excellent. If I feel like splurging again before I leave Moab I'll go back.
Moab UT
Devil's Garden
Saturday, May 24, 2003: I started the day by heading for the Devil's Garden Trail in Arches. This goes past several arches either directly (Landscape Arch) or on side trails (Tunnel Arch, Pine Tree Arch, Navajo Arch, Partition Arch). (PHOTO) More to the point, the main trail goes to Double O Arch (there is a primitive trail that also goes there...you can make a loop...I didn't).
The trail itself was rather interesting once past Landscape Arch, and of course the scenery was also interesting. At one point there is a walk across the top (lengthwise) of a sandstone fin. It was kind of windy and I felt quite exposed up there...glad to get back on the ground. You can climb though the lower arch of Double O. It leads to a partly shaded alcove with many pleasant places to sit. Three people were already there when I got there. Getting though the lower O is a little tricky. At first I thought a big step might do it, but it was too steep and I just slid back down the sandstone. I ended up jumping up on the arch and managed to get a handhold. Together with the same place for my foot as the big step, I got enough traction to push and pull myself up. (Getting down was easy—sit and slide.)
Returning, I found it had become extremely crowded in the park, so I made tracks. I again tried the Nature Conservancy's Matheson Preserve. It was open this time (it supposedly opens at dawn, but they don't unlock the gate anytime near dawn). There was a lot of birdsong, mainly Black-headed Grosbeaks, Yellow-breasted Chats, Yellow Warblers, and Spotted Towhees. I also saw 2 Mule Deer. After lunch, I tried to go up into the La Sal Mountains (cooler there), but a storm came in just as I was starting up. As it was clear it wasn't just going to blow over (it became more general), I retreated and headed south to the Needles Overlook. On the way, I found a mother and baby Pronghorn as well as tumbleweed blocking the road. The tumbleweed were moved aside (don't touch!) and I proceeded to the overlook. I can't begin to describe the various overlooks. I'll just say that neither film nor prose do them justice. You have to see them.
After dinner at the Sunset Grill, in Uranium millionaire Charlie Steen's old home high above Moab, I headed back to Arches. I visited the Delicate Arch Viewpoints and Skyline Arch before returning to the motel. Today was the biggest hiking day so far...over 8 miles. (PHOTO)
Moab UT