I've taken quite a few photos over the last decade and have placed a selection of them on display in this web site. Quality varies from excellent to snapshot to record shots for certain birds (i.e., it shows enough to ID the bird, but may otherwise be a lousy picture). From here, you can find astrophotos, primarily of Comet Hale-Bopp, birds from Florida, New York and other locations, waterfalls, and some pictures of Letchworth State Park (and its waterfalls). If you're planning to make copies, please check my copyright page.
Upstate New York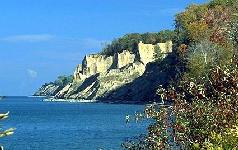 Many of the pictures here were taken in upstate New York, especially the Finger Lakes region. One of the most unusual formations in the area is at Chimney Bluffs, near Sodus Bay. The bluffs are drumlins that are being eroded away by the water and wind. During storms the erosion can be substantial, sometimes sending a house or two on cliffs near Sodus Bay into Lake Ontario.
Rochester Photos
Although most of my landscape photos are of natural scenery, I interpret "landscape" broadly to include man-made "landscapes". Accordingly, here are some Rochester landscapes, several views of downtown, of the Upper Falls, a detail from one of the buildings, the Veteran's Bridge farther downstream, and a nightime shot of the University of Rochester's Rush Rhees Library dome.
Downtown
Rush Rhees
Library dome
Batwings
Upper Falls
Downtown
Upper Falls
Veteran's Bridge
Sunset from
Indian Hill
Downtown Rochester
at night
Miscellaneous
These are from southern California in December 2003.
Mt. Palomar
Observatory
Mountains at Sunrise
Equipment
The photos have been taken using a variety of equipment. The collection I use has evolved over the years. SLR cameras used included the Canon Elan IIe, EOS 3, Digital Rebel, 20D, and currently the Canon 40D. I started out with the 28-80 F/3.5-5.6 and 75-300mm f/4.0-5.6 USM zooms, adding a Tokina 400mm f/5.6 ATX for bird photos. The zooms were replaced by the Canon 28-135mm IS USM and 20-35 USM, and the Canon 100-400mm IS L replaced the Tokina. A 50mm f/1.8 was also added. Since moving to digital, I've added the Canon 17-85 EF-S IS and 10-22mm EF-S lenses. I was travelling light (and in deep snow!) when I took the winter '96 Letchworth pictures. They were taken with a compact Pentax IQZoom 115s.