The Badlands
Wednesday, June 19: This morning I left the motel early, and drove to Ft. Pierre Nat'l Grassland (a bit less than an hour). Before I even got to the grassland I had spotted an Upland Sandpiper perched on a fencepost. Pheasant were all over the place, but I couldn't find the target chickens...well, I did find one Prairie-chicken, but it was unfortunately deceased (roadkill). I also struck out as far as Sharp-tailed Grouse was concerned. I may try near the Badlands early tomorrow. A flyover Hudsonian Godwit (!) was clearly the highlight. I also picked up Grasshopper Sparrow, Lark Bunting, Chestnut-collared Longspur, and Bobolink.
From there, I headed to Badlands National Park. I picked up Black-billed Magpie and Rock Wren in the parking lot at the first Badlands stop. Birding was pretty slow in mid-day, but I added Lark Sparrow and Horned Lark (prairie form). I stretched my legs a bit on the Saddle Pass and Medicine Root Trails. Saddle Pass is short but steep, with a good view from the top. It connects to the Medicine Root Trail. I explored part of the Medicine Root trail some before returning to my car.
Badlands
The Wall
Badlands
Color
The mostly bare ground really lets the geology show. After a while, I realized that the Badlands wall that Wall SD is named for is really quite similar to the "Wall of Manitou" (aka Catskill Mural Front, etc.) in the Catskills. In both cases you have a high plateau being eroded downward. It doesn't really matter that it's falling into the Hudson Valley in one case and the White River Valley in the other. However, the vegetation in the Catskills both hides the nature of the terrain, and reduces the erosive force of the water. Still, the similarity between say, Kaaterskill Clove (Rip van Winkle country) and the eroded gullies in the Badlands is striking.
| | |
| --- | --- |
| | |
| Cactus Flower | White River Valley |
I checked in to a motel, visiting the world-famous Wall Drug, ate, and stopped at the visitor's center for the Buffalo Gap National Grassland before returning to the Badlands. The ranger there was very helpful in giving directions to a couple of spots that might have Sharp-tailed Grouse. He even xeroxed a couple of maps, and drew directions on them.
Badlands
Badlands
Formation
Badlands
Color
Prairie Dog
Back in the Badlands, I soon got Mountain Bluebird. I located the Grouse spot I will visit tomorrow morning, and then went to the big Black-tailed Prairie Dog town. The Dogs were very cooperative and I got some closeups. There were also a few American Buffalo (sometimes pedantically called "bison"). I'm surprised I haven't seen any Pronghorn yet.
I'm wondering about whether the geology of the Badlands relates in any way to the geology of the "badlands" of NY state. The formations are certainly similar, but these are composed of rock while the ones in NY are dirt—glacial till. The NY badlands are also being formed partly by wave action at the west end of Lake Ontario near Sodus Bay, as seen at right.
Before dark, I scouted out the Sharp-tailed Grouse area. I also checked another area that could have had grouse in the evening. It didn't, so I planned to get up early.
A cold front rolled through today, and tomorrow is supposed to bring the first cool weather (40s) of the trip. Today's mileage was only about 290. I found 45 species, bringing my trip total to 109.
Wall, SD
The Black Hills
Thursday, June 20: I left the motel about 5:20am (MDT), arriving at the Grouse location in Buffalo Gap National Grassland shortly before 6. This involved a short drive down a 2-track road to a Prairie Dog town. I started scanning, adding Pronghorn to the mammal list. Then I spotted my first Sharp-tailed Grouse! I got the scope set up to move it off my BVD list, but it disappeared before I had the scope ready. More scanning added Burrowing Owl, and then a second Grouse appeared, this time the to south (the first was north). It was moving through the grass, and again I did not get a good look. I keep at it, and was rewarded by a third Grouse. This one stayed put, and I finally got satisfying looks. Upland Sandpiper was also heard in the area, and I had picked up Say's Phoebe on the way there.
Since I was already on the south side of the Badlands, I continued south to hit SR-44. On the way I encountered typical grassland species such as Horned Lark, Lark Bunting and Lark Sparrow, and on SR-44 I found Golden Eagle and Swainson's Hawk. I took SR-44 to Rapid City. As I approached the Black Hills, I noticed a Turkey sticking his head up. My first impression of the Black Hills was very favorable, and I immediately revised my plans to stay here an extra day (which I've had in hand).
I took US-16 to Hill City, when I got a room for 2 nights. I was avoiding Mt. Rushmore because I wanted to approach it via Iron Mountain Road. From Hill City, I took the very scenic Needles Highway to Custer State Park. I made a brief stop in the Black Hills National Forest just outside Custer State Park because I heard Red Crossbills. I saw them fly around a bit, but did not get satisfactory looks (typical with crossbills). I also made a stop to walk the Cathedral Spires Trail a bit. At one point a Robin got a bit excited, and started to scold me. I responded by pishing vigorously. Pretty soon, I had Black-capped Chickadees, Western Warbling Vireo, Red-breasted Nuthatch, both Kinglets (with their crowns raised), Audubon's Warbler, Pine Siskin, White-winged (Dark-eyed) Junco, and Red-naped Sapsucker. Hermit Thrushes had also been singing earlier, and crossbills were again active.
Once in Custer State Park, I easily found Mountain Goats by the side of the road and Yellowbellied Marmot. I followed US-16A east to the Wildlife Loop, which I took south and west to SR-87.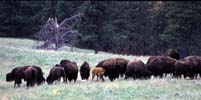 The wildlife drive had Buffalo, Pronghorn, White-tailed Deer, Black-tailed Prairie Dog, more Mountain Goats, and possibly an Elk.
From there, it was on to Wind Cave National Park. I took the Natural Entrance Cave Tour at Wind Cave. The cave itself is quite a bit different from other caves I've been in. No stalagmites or stalactices. However, it has huge amounts of boxwork (so-called because of it resembles an array of post office boxes). There were a number of Chats around outside, as well as Western Wood-Pewee and Violet-Green Swallows.
When I got done at Wind Cave, it was time to head to Mt. Rushmore. I was now in position to retrace my steps to US-16A and head to Mt. Rushmore via Iron Mountain Road, with its pigtail bridges and tunnel views of Mt. Rushmore. I didn't bird at Mt. Rushmore National Monument. Tomorrow will be devoted entirely to birding and hiking in the Black Hills.
Today's mileage was about 240, mostly between locations. I registered 52 species today, with a trip total of 129.
Hill City, SD
In the Black Hills
Friday, June 21: My plan today was to start by birding Spearfish Canyon (and Little Spearfish Canyon). On the way there I noticed some "grackles" that didn't look like grackles. As expected, they turned out to be Brewer's Blackbirds. I tried Little Spearfish first.
It yielded MacGillivray's Warbler, BH Grosbeak, Veery, Swainson's Thrush, and American Dipper. I also planned to hike there, and this is where things went awry. The hike started fine, but I got confused by the maze of trails, and ended up on the wrong one. I thought I knew an alternative way to accomplish the same type of hike (on different trails). I decided this was too risky, and took a safe way back. Next I tried Spearfish Canyon itself. Unfortunately, they were repaving. A big chunk of the road could only be traveled in convoy. The upper end had freshly paved turnouts...a little too freshly paved to use. I ended up simply driving the canyon, which is an impressive narrow canyon with high walls. I returned via a different route.

By then it was the heat of the day, and I took a break. A little later I went to Jewel Cave National Monument, where it is 50 degrees in the cave. Although Jewel Cave has some boxwork, its abundance of jewel-like crystals give it its name. The guide was extremely good, and it ended being the best cave tour I've had. I took a scenic route back, and espied a bird perched on the tip-top of an evergreen. Normally, I'd think Robin, but this bird didn't look quite like a Robin. I pulled off the road and verified that it was a Townsend's Solitaire.
I only saw 38 species today, and my trip total is now 139.
Hill City, SD